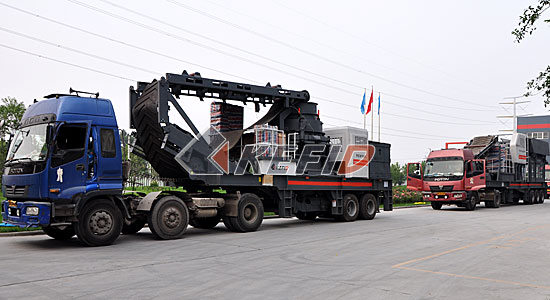 Wheel-mounted Mobile Crushing Plant
Mobile Crushing Plants
are a series of equipments researched and developed by our company for the use of rock and construction waste crushing, which expand the working filds of rough
crushing
and fine crushing. Mobile
Crushing Plant
's design principal is to stand in the position of customers aiming primarily to eliminate all the barries in crushing site, environment, complicated infrustructure and complex logistics; and with the new conception of dealing with materials nearby. We will work sincerely to offer all the customers simple, efficient and low-costing subject running hardwares.
Features of Wheel-mounted Mobile Crushing Plant
Advantage: Flexible combination and good adaptibility.

According to different crushing process and requirement, the combination can be "crushing-screening" or "screening-crushing", and the crushing plant can be combined according to actural requirement as the two-step screening system of rough crushing and fine crushing or three-step screening system of coarse-medium-fine. The flexibility can greatly meet various requirements of customers.

This plant can be classified as standarded type and closed type according to customers' requirements, and we can develop various combined bype according to the needs of high-end customers.

This series of mobile crushing plant incorporates all the equipments together on one truck, which has high chassis, narrower body compared with other trucks, this ensure the crushing plant be easily transported on highways and moved to crushing sites, so it is able to achieve on-site crushing without material transporting from one place to another place.

In addition, the lengthened plant is able to transport the final products to the motor-lorry directly. it can start to work soon even in the bumpy ground without reinstallation, so it saves more time and money than fixed crushing plant which needs to install individual equipment one by one.
Type of Wheel-mounted Mobile Crushing Plant
Application of Mobile Crushing PlantWheel-Mounted Mobile Crushing Plant we have is:
1. Primary crushing plant: vibrating feeder and jaw crusher
This crushing plant is used to crush large materials. Its capacity and feeder size depends on size of jaw crusher installed. Size range of finished product is 0-120mm.

2. Complete set of mobile crushing plant: vibrating feeder, jaw crusher, cone crusher and vibrating screen
This design is suitable to crush materials of high hardness, like granite,balsalt,etc.
This crushing plant has high crushing ratio and fine finished product because cone crusher is used as secondary crusher.

3. Complete set of mobile crushing plant: vibrating feeder, jaw crusher, impact crusher and vibrating screen
Impact crusher used can makes finished product has cubic shap and its low cost can reduce total cost of the crushing plant.
This design is suitable to crush soft materials like limestone.

A type: standared type
equip different single machines on the basis of one crushing unit.
They are:Mobile Jaw Crusher, Mobile Impact Crusher, Mobile Cone Crusher, Mobile VSI Crusher, Mobile Feeder & Cone Crusher



B type: Closed-Circuit type
Theclosed type crushing plant is a single device configuration. It can utilize it's own closed system to carry out repeated crushing. It is integrated and totally automatical, with the self-owned tranferring and screening system and can carry out crushing respectively. Besides, it adopts the self-carryed belt, mainly:
1. Closed-Circuit Type Mobile Cone Crusher plant
2. Closed-Circuit Type Mobile Impact Crusher Plant
3. Closed-Circuit Type Mobile Impact crusher Plant

C Type: Combined Crushing Series with Single Devices, mainly:
1. Combined Mobile Impact Crushing and Screening Plant
2. Combined Mobile Jaw Crushing and Screening Plant
3.Combined Mobile Cone Crushing and Screening Plant

D type: Secondary Crushing Series
Note: Any change of Mobile Crushing Plant technical data shall not be advised additionally.
Get Price or Support of Wheel-mounted Mobile Crushing Plant (Portable Crusher)
Optional Equipment: