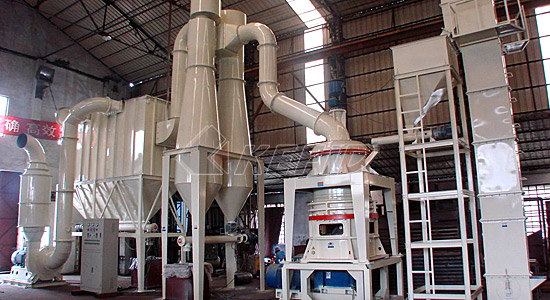 Micro Powder Grinding Mill
Micro Powder Grinding Mill is a new type of mill for making super fine powder through more than 20 times of test and improvement. The fineness can reach to 0.038mm; Micro Powder Mill is mainly used for processing gypsum, calcspar, talc, and other materials used in painting, pigment and cosmetics industry.
Compared with jet mill, Micro Powder Grinding Mill is economic-cost, high-capacity, and the spare parts just need to exchange once a year; The bag filter is added to protect the environment.It is widely used in making fine powder or micro powder, and the raw materials should be non-inflammable and non-explosive under the Moh's hardness less than 6 grade such as limestone, calcite, dolomite, kaolin, bentonite, talc, illite, pyrophillite, barite, meerschaum, fluorite, potash ore, etc.
Features of of Micro Powder Grinding Mill
1.Size of final product can be 0.613mm (30mesh) –0.033mm (425mesh). And a few of material powder can reach 0.013mm (1000 mesh).
2.Compared with the common Raymond grinding mill under the same power conditions, the capacity can be increased by 10%; moreover, under the performance of high-pressure springs, the rollers grinding pressure on raw materials can be raised by 800-1200kgf..
3.Its dust-removing effect fully meets the national dust discharge standard.
4.The dust-removing effect can fully conform to the national standard.
Technical Parameter of Micro Powder Grinding Mill
Mm to inch conversion: 25.4millimeters=1 inch
The humidity and hardness of raw material will affect the fineness and capacity.
| | | |
| --- | --- | --- |
| Model | HGM80 | HGM100 |
| Roller number | 21 | 27 |
| Diameter (mm) | Φ800 | Φ1000 |
| Ring number | 2 | 2 |
| Main unit speed(mm) | 235 | 235 |
| Max. feeding size(mm) | 10 | 10 |
| Final size (mesh) | 325-2500 | 325-2500 |
| Capacity (kg/h) | 600-4000 | 900-6000 |
| Overall dimension (m) | 12.4×2.5×5.8 | 14.5×3.8×6.3 |
Note: Any change of Micro Powder Mill technical data shall not be advised additionally.
Get Price or Support of Micro Powder Grinding Mill
Optional Equipment: