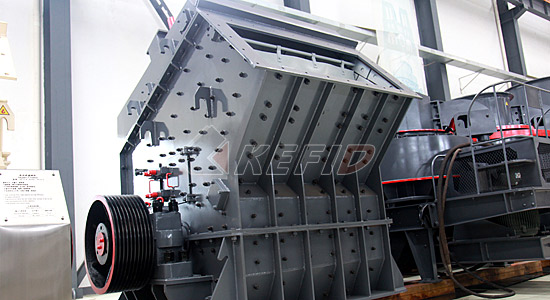 PF series Impact Crusher
PF series impact crusher is a latest equipment developed by absorbing advanced technologies at home and abroad and referring to domestic sand and stone making industry. It adopts the lasted manufacture technics, unique structures and design, the producd product is of cubic shape without tension and cracks and good grain shape.
The max feeding size should not be more than 500mm, and compression resistance should not be more than 350Mpa. Various materials(granite, limestone,concrete) of rough, medium fine and super fine quality are available. It is widely used in ore crushing, railway, highway, energy, cement, chemistry, construction materials and others to carry out rough, medium fine and super fine crushing, such as limestone, ripe materials, slag coke,coal and so on. Its outlet size can be adjusted, which makes various specifications posible.
Features of PF series Impact Crusher
1. A large inlet, high crushing chamber which is suitable for materials with high hardness, biger block and less powder;
2. Clearance between impact-plate and plate can be adjust conviniently, which can make effective control of the particle size posible, broken end product is of cubic shape, the grain shape is good;
3. It has compact structure, high machine rigidity, and the rotor has a large inertia;
4. high chrome hammer, impact resistance, abrasion resistance, mechanical wear small, big impact;
5. Using new rotor can increase the impact force;
6. Broken-function is complete, reduction ratio is big, it is of high productivity, low energy consumption, and its overall efficiency is high.
Technical Parameter of PF series Impact Crusher
Mm to inch conversion: 25.4millimeters=1 inch
Model
Size of rotor (mm)
Feed opening
(mm)
Max. feed
size (mm)
Capacity (t/h)
Power of
Motor (kW)
Weight (t)
PF1010
Φ1000×1050
400×1080
350
50-80
75
12.5
PF1210
Φ1250×1050
400×1080
350
70-130
110
16.5
PF1214
Φ1250×1400
400×1430
350
90-180
132
19
PF1315
Φ1320×1500
860×1520
500
120-250
200
24
PF1320
Φ1320×2000
860×2030
500
160-350
260
27
Note: Any change of Impact Crusher technical data shall not be advised additionally.
Get Price or Support of PF series Impact Crusher
Optional Equipment: