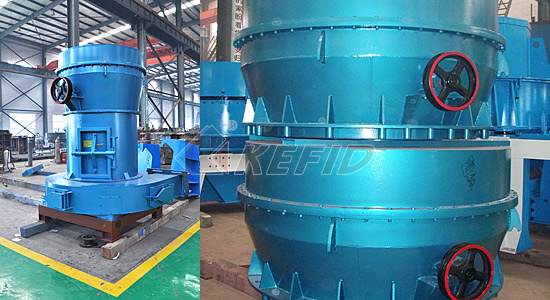 Raymond Mill
Raymond mill adopts mill disc revolution, mill draft rotation, spring adjustment rod structure, which is able to strengthen press, cutting ability, so as to enhance ability of the mill. It has advantages of high production, fine powder, continuous drying powder, grains are concentratedly scattered, fineness is continuous and adjustable, compact structure, low energy consumption, high efficiency, less power consumption, small working area, less investment each time, easy installation and maintenance, reliable operation and so on.
R series Raymond mill is optimized by our experts, combines low consumption, low investment, and environment friendly, small occupation area, it is more efficiency than the traditional Raymond mill.
Features of of Raymond Mill
1. most raymond mills are used for handling with some frivolous material, but with the deepening of understanding and the superiority of the crushing steel, all kinds of raymond grinding mills are developed quickly and used wider and wider. Even to the entire scrapped cars and household appliances, processed with appropriate conveyor and sorting equipment, the composition of scrap broken lines can be easily finished ,so it is no need to dismantle of scrapped cars and household appliances and it is easily to product and process automatically to get pure crushed steel, non-ferrous metals and non-metallic materials available.
2.The electric control system is centralized controlled, so the automaticity is high, no people are needed in the operating room.
3.Driving system of main frame adopts airtight gearing and pulley, drives smoothly and operates reliably.
4.Compared with other milling plants, its passing ratio achieves 99%, this is what other mill can not reach.
5.The whole plant is a vertical structure of strong systematic characteristic, so it occupies small area. From crushing of raw material to grinding and packing is an independent production system.
Technical Parameter of Raymond Mill
Mm to inch conversion: 25.4millimeters=1 inch
The humidity and hardness of raw material will affect the fineness and capacity.
Model
3R2115
3R2615
3R2715
3R3016
4R3216
Roller
Number
3
3
3
3
4
Diameter (mm)
210
260
270
300
320
Height (mm)
150
150
150
160
160
Ring
Inside diameter (mm)
630
780
830
880
970
Height (mm)
150
150
150
160
160
Maximum feed size (mm)
15
15-20
15-20
15-20
20-25
Output size (mm)
0.044-0.165
0.044-0.165
0.044-0.165
0.044-0.165
0.044-0.165
Power of main frame (kW)
15
18.5
22
30
37
Fineness of final product (mm)
0.165
capacity (t/h)
1.2-1.8
1.8-2.5
2.3-2.8
2.6-3.2
3.2-4.5
0.075
0.6-1.2
1.2-1.8
1.8-2.3
1.9-2.6
2.4-3.1
0.044
0.6-1.0
0.8-1.2
0.9-1.7
1-1.9
1.8-2.5
Note: We hold the rights to modify the design and specification of our products, any modification shall not be advised additionally.
Get Price or Support of Raymond Mill
Optional Equipment: