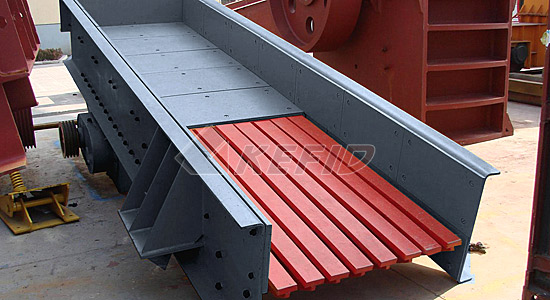 Vibrating Feeder
Vibrating Feeder is a kind of linear direction feeding equipment. It features smooth vibrating, reliable operation, long service life and being suitable for feeding. They are widely used in mining, building-material, silicate and chemical industry in the crushing and screening plants. In the Sand-Stone production line, it can send materials to crusher evenly and continuously and at the same time, it can screen materials roughly.
We can supply wide ranging vibrating feeders, capacities ranging from120 tonne/hr to 600 tonne/hr. Vibrating feeder is used for transferring bulk materials from hoppers or driers, grinders, crushers, millers or screens in chemical, mining, foundry, quarrying and iron and steel industries.
Features of Vibrating Feeder
It can vibrate stably, work reliably, and has a long life span; vibration power can be adjusted, and flow can be changed and controlled at any time, adjustment is convinient and stable; the vibration generator is the source of vibration, which has low noise, less electricity consumption, perfect adjustment and there is no phenomenon of materiral washed.
It has simple structure, stable performance, convinient adjustment and installation, small weight, small volume, easy to maintain. Besides, the closed structure itself is helpful for avoiding dust pollution.
Technical Parameter of Vibrating Feeder
Mm to inch conversion: 25.4millimeters=1 inch
Model
Max. feeding
size(mm)
Handling
capacity(t/h)
Power (kW)
Dip angle(º)
Weight(kg)
GZG70-4
200
120-170
2X0.5
~10
389
GZG100-4
300
270-380
2X1.1
~10
762
GZD240X70
400
30-80
2x1.5
~10
3000
GZD300×85
450
80-120
2x3.7
~9
3900
ZSW380×96
500
120-210
11
0
4200
ZSW420×110
650
180-400
15
0
4800
ZSW490×110
650
250-480
15
0
5300
ZSW490×130
750
300-550
22
0
6700
ZSW600×130
750
400-800
30
0
7800
ZSW600×150
800
500-850
30
0
8800
Note: Any change of Vibrating Feeder technical data shall not be advised additionally.
Get Price or Support of Vibrating Feeder
Optional Equipment: