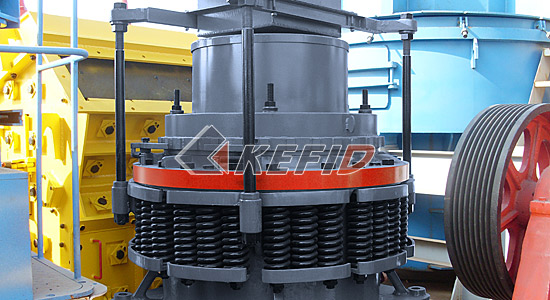 Spring Cone Crusher
Compared with jaw crusher, spring cone crusher has the advantage of low operation costs, high productivity, easy adjustment and stable structure. Cone Crusher can be used for secondary and fine crushing of hard and medium hard mineral stone, such as iron ore, copper ore, quartz, granite, basalt and dolerite, etc. The spring safety system of spring cone crusher serves as an overloading protection system that keeps cone crusher from metal damage. The dry oil and water sealing form of safety system is adopted to make plaster powder and engine oil separate to guarantee reliable performance.
Spring cone crusher is widely used in ore, metallurgy, chemistry, construction materials, road construction, hydroelectrical subjects and others to carry out medium and fine crushing to various ores and rocks with different hardness, the equipment is suitable for crushing ores and rocks with hardness higher than meduim hardness.
Features of Spring Cone Crusher
1.Great crushing power, high efficient, and large capacity;
2.Low running cost, easy to adjust and economical in running;
3.Due to reasonable choice of components and design, it has a long life span;
4.Simple in structure, balance in running, convinient in adjustment and time of stope can be greatly reduced;
5.It's spring ensuring system is of over-load protective device, which is able to protect machines from being damaged while there is metal passing from the crushing chamber;
6.Crushing chamber of each specification can be different according to customers' needs, which will be able to serve clinets better.
Technical Parameter of Spring Cone Crusher
Mm to inch conversion: 25.4millimeters=1 inch
Type
Max. input (mm)
Adjusting range
of output (mm)
Capacity (t/h)
Motor power
(kW)
weight (t)
Overall dimensions
(L×W×H)(mm)
PYB
900
115
15-50
50-90
55
10.2
3050×1640×2350
PYZ
60
5-20
20-65
10.2
PYD
40
3-13
15-50
10.3
PYB
1200
145
20-50
110-200
110
24.7
4152×2300×2980
PYZ
100
8-26
50-150
25
PYD
50
3-15
18-105
25.6
PYB
1750
215
25-60
280-480
160
50.3
4870×3800×4192
PYZ
185
10-30
115-320
50.3
PYD
85
5-15
75-230
50.4
PYB
2200
300
30-60
590-1000
260-280
80
7705×3430×4852
PYZ
230
10-30
200-580
80
PYD
100
5-15
120-340
81.4
Note: Any change of Cone Crusher technical data shall not be advised additionally.
Get Price or Support of Spring Cone Crusher
Optional Equipment: