How Jaw Crusher Works?
what is jaw crusher?
Jaw crusher
is composed of frame, eccentric draft, large belt wheel, flying wheel, mobile jaw, side plate, toggle plate, back seat of toggle plate, gap ajustment screw, reset spring, fixed jaw and so on. Among them, toggle plate plays a role of assurance.
Jaw crusher
of this series is of bend and press type. Moter will drive the belt and the belt wheel to force the mobile jaw to move up and down through eccentric draft, while the mobile jaw is lifting, angle between the toggle and the
mobile jaw
will become bigger, and the mobile jaw will move towards the fixed jaw; the jaw gears will throw materials to the
crushing
wall powerfully, and stones will be crushed to little pieces; while it goes down, the angle will become smaller, while pulled by the draw bar and spring, the mobile jaw will leave the fixed jaw and crushed materials will be discharged frome the outlet. While the motor is rotating continuously, the mobile jaw will carry out periodical press and discharging and implement mass production.
jaw crusher purpose? Jaw crusher and scope of application areas?
Widely used in mining, smelting, building materials, roads, railways, water and the chemical industry and many other sectors, not broken compressive strength of over 320 MPa different kinds of materials.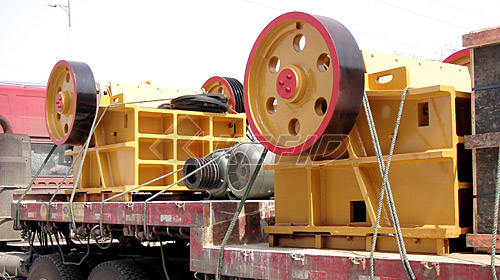 jaw crusher principle?
Jaw Crusher
is to use two of the jaw plate extrusion materials and bending role in the rough or broken broken hardness materials broken machinery. Their bodies broken jaw fixed by the board and board composition movable jaw, when the two boards around the jaw broken when materials shall, when the two left jaw plate nesting population is less than expected from the block from the bottom. Its action is broken intermittently conducted. This crusher for a simple, reliable and hard materials can be broken and the advantages of being widely used in mineral processing, building materials, ceramics, and other silicate and industrial sectors.
how to choose Jaw crusher manufacturers?
First of all manufacturers depend on the strength, reputation, size; Secondly manufacturers depend on the quality of products, technical level, level of maturity; Inspected again to the manufacturers, production site, users scene is the most convincing. Shop around final must be carefully inspected and selected carefully.
Hot Products: