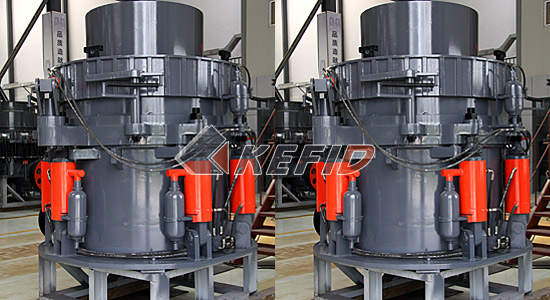 HP Cone Crusher
HP Cone Crusher is designed to meet clents's request of the high outputs, excellence product fineness and economical running costs. HP cone crusher introduced the germany technology, not only improves the production capacity and crushing efficiency, but also widens applying area, hardness range of materials from limestone to basalt. HP cone crusher is an ideal crusher for large stone crushing factory and mining industry.
This HP cone crusher has not only increased the productivity and crushing effect, but also expand the using field, from limestone to basalt, frome stone production to various stone crushing. It can complete various medium fine, fine and super fine operation with high efficiency, easy to mainten and enbraces great reliable operation. It is the latest product for replacenet of spring cone crusher and common hydraulic crusher in the modern ore and construction industries, and an optimum equipment for grand scale stone processing factory and ore crushing.
Features of HP Cone Crusher
The high efficient hydraulic cone crusher is a high-efficient cone crusher developed by absorbing the Germanic technology, it has the following features:
1.High efficiency: this machine adopts the fixed main draft, equal small spherical axis and other perfected structure, comparing with the old spring cone crusher, efficiency has been increased by 5%-15%.
2.Big capacity: this machine is a perfect combination of crushing stroke, crushing speed and crushing chamber, which makes the capacity 35%-60% more than that of the old spring cone crusher while size of crushing cone is the same.
3.High-quality carpolite: this machine adopts the lamination crushing principle, there will be crushing function happening between different kernels, so that proportion of cubic shaped products can be obviously high, needle-like stones will be less, and grain grade will be more even.
4.More stable performance: while there are materials not suitable for crushing entering into the machine, the protection device will start automatically to relieve it and reset immediately.
5.The multi-split hydraulic lubrication control system will ensure a double protection to draft lubrication and a over-load protection.
Technical Parameter of HP Cone Crusher
Mm to inch conversion: 25.4millimeters=1 inch
Type
Cavity
(coarse/fine)
Min. discharge
size (mm)
Feed size
(mm)
Capacity (t/h)
Power
(kW)
Weight
(t)
movable cone
diameter (mm)
HP-160
C
13
150
120-240
160
13
950
F
6
76
55-180
HP-220
C
13
225
150-430
220
18
1160
F
6
86
90-260
HP-315
C
13
290
190-610
315
26
1400
F
6
100
108-320
HP-400
C
13
320
230-700
400
33
1500
Note: Any change of HP Cone Crusher technical data shall not be advised additionally.
Get Price or Support of HP Cone Crusher
Optional Equipment: