Complete Crushing Plant
KEFID's products are
vibrating screen
,
Vibrating Feeder
,
Belt Conveyor
,
Stone Crushers
,
Rock crushers
,
VSI crusher
( sand making machine),
sand washing machine
, High pressure suspension mill, High pressure micro powder mill, Super pressure trapezium mill,
Raymond mill
, Straight centrifugal mill ( our latest patent product),
ball mill
and belt conveyor etc. Including more than 10 series and 30 types of crushing and milling plants.
Client-oriented and provid all-around-way service for our clients; Service-centered and provid customized and high-valued products for our clients; Quality-hightened and serve our customers to the best of our ability! On sales of products, clients' interest is our first consideration.
In 2005, all of our products had passed ISO 9001:2000 certificate, our two series patent mills have been certificated CE in 2007. The HPC high efficieny
cone crusher
and VSI sereis
sand making machine
have been proved by many tests in the middle of 2007. The wheeled-mounted and tracked-mounted
mobile crusher
crushing plant are successfully launched in 2008.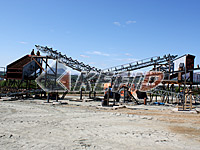 Stone Crushing Plant (Stone crushing production line) is mainly to process stones which are used in construction, road, railway. Different industries have different requirements of the size, shape of the stones and designed plan of stone production line is needed.One complete set of stone production line should include: vibrating feeder, primary crushing equipments, secondary crushing equipments,vibrating screen, conveyor belt, and electric control panel and so on. Our company can provide many kinds of schemes for customer's choice.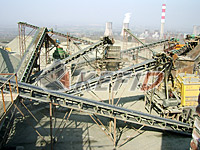 Sand Making Plant is mainly used in construction industry. The increasing insufficiency of natural sands make manufactured sands more and more important. There is a wide range of raw materials to make manufactured sands, like common stone from mountains and pebbles from riverbed.Since our debut in the production of equipments for manufactured sands, our company makes research strictly adhering to sand standard in construction industry.