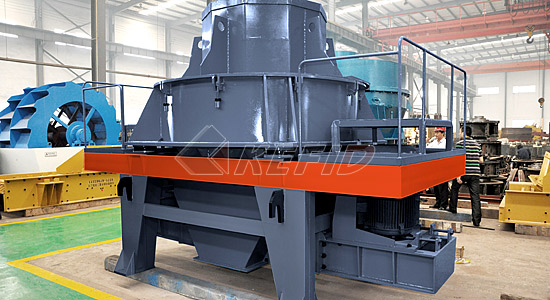 P series VSI crusher
P series VSI crusher (sand making machine) is the traditionall type, absorbs advanced technology of the Barmac company of America, features low operating costs and reliable structure. P series VSI crusher plays an important role in artificial sand making and mineral crushing.
P series vertical impact crusher is commonly referred to sand making machine, it is the latest high-energy and low-consumption sand making machine developed on basis of many years ore equipments manufacturing and absorbing principles of the Bamako vertical impact sand making machine.
Features of of P series VSI crusher
1.Simple and reasonable in structure, low in running cost;
2.Has fine crushing, rough grinding function, low in energy consuption, high in capacity and high in crushing ratio.
3.Small in volume, less abrasion of impellers, easy to operate, install and maintain.
4.while influenced by moisture of materials, the rate can be about 8%.
5.Has the function of shaping, products are of cubic shape, which is high in bulk density and badly low in iron pollution.
6.More suitable for medium fine and super fine crushing.
7.Some wearable parts are made of specially abrasive materials, which are small in volume, light in weight, and its parts are easy to be changed.
8.Working noise is lower than 75db, and dust pollution is low.
Technical Parameter of P series VSI crusher
Mm to inch conversion: 25.4millimeters=1 inch
Model
Rotate speed of
impeller (r/min)
Max feed
size (mm)
Power (kW)
Weight (including
motor) (t)
Capacity (t/h)
Overall dimensions (mm)
P-600
2000-2600
30
2×30
5.6
10-30
2800×1550×2030
P-750
1600-2100
35
2×45
7.5
30-50
3300×1800×2440
P-900
1300-1700
40
2×55
12
50-80
3750×2120×2660
P-1050
1100-1450
45
2×110
16
70-120
4480×2450×2906
P-1250
950-1200
45
2×132
22
80-150
4563×2650×3176
P-1350
800-1200
50
2×160
26
120-200
5340×2940×3650
Note: Any change of P series VSI crusher technical data shall not be advised additionally.
Get Price or Support of P series VSI crusher
Optional Equipment: