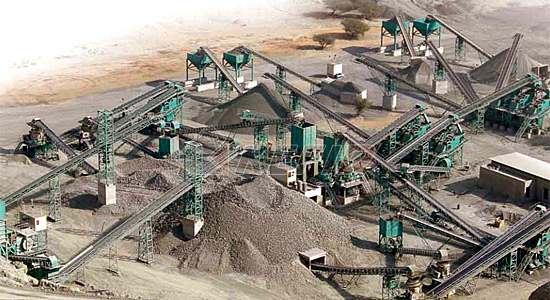 Belt Conveyor
Belt conveyor is a kind of machine that to transfer the material continuously. The belt works under the effect of frictional force. It is not only the components to transfer the material, but also the components to transfer the force.
Belt conveyor is advanced and simple in structure, easy to maintain. Its transfer capacity is high, transfer distance is long. They are widely used in mining, metallurgy and coal industry to transfer sandy or lump material, or packaged material. In many situation, it is a very important component of nonstandard machinery.
The belt conveyors can be operated in the circumstance temperature range from -20℃ to +40℃. The temperature of transferred material by this belt conveyor should be lower than 50℃.
Features of Belt Conveyor
The belt conveyor moves according to the abrasion and transmission priciple, which can transport a great deal of materials, transport a long way, transport stably. And there is no relative movement between materials and the belt. It has advantages of low noise, simple structure, it's easy to maintain and has low energy consumption and standardized parts.
Belt conveyor is consisting of a metal frame with rollers at either end of a flat metal bed. The belt is looped around each of the rollers and when one of the rollers is powered (by an electrical motor) the belting slides across the solid metal frame bed, moving the product. In heavy use applications the beds which the belting is pulled over are replaced with rollers. The rollers allow weight to be conveyed as they reduce the amount of friction generated from the heavier loading on the belting. Belt conveyors can now be manufactured with curved sections which use tapered rollers and curved belting to convey products around a corner.
Technical Parameter of Belt Conveyor
Belt Width(mm)
Belt Length (m) / Power (kW)
Belt Speed (m/s)
Capacity (t/h)
500
≤12/3
12-20/4-5.5
20-30/5.5-7.5
1.3-1.6
45-100
650
≤12/4
12-20/5.5
20-30/7.5-11
1.3-1.6
70-120
800
≤10/4
10-15/5.5
15-30/7.5-15
1.3-1.6
120-180
1000
≤10/5.5
10-20/7.5-11
20-40/11-22
1.3-2.0
160-250
1200
≤10/7.5
10-20/11
20-40/15-30
1.3-2.0
200-400
Note: Any change of Belt Conveyer technical data shall not be advised additionally.
Get Price or Support of Belt Conveyor
Optional Equipment: