Screening & Washing
KEFID's products are
vibrating screen
,
jaw crusher
,
impact crusher
,
vertical shaft impact crusher
( sand making machine),
sand washing machine
, High pressure suspension mill, High pressure micro powder mill, Super pressure trapezium mill,
Raymond mill
, Straight centrifugal mill ( our latest patent product),
ball mill
and belt conveyor etc. Including more than 10 series and 30 types of crushing and milling plants.
KEFID Vibrating Screen
can separate the stuff of different size range. It is the most general means of size control in aggregates processing.

Sand Washing machine
is a kind of cleaning equipment of international advanced level for sand and slag pellets, it is developed on the basis of introducing foreign outstanding technology of the same kind of products.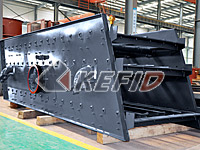 Vibrating Screen
is a new vibrating screen vibrating in a circle, with multiple layers and high efficiency. This screen adopts barrel type eccentric vibration generator, and eccentric block for swing adjustment. It has a long vibrating line, various screen specifications, reliable structure, powerful vibraing power and specially designed for quarries stone screening, and is widely used for products grading for ore, construction materials, traffic, energy, chemistry and other industries, which is an ideal equipment for crushing and sceening assembly.
Kefid screw sand washing machine
is mainly used for sand processing, electric pole factory, building work site and concrete dam, various sands classifying and dewatering.This sand washer adopts inclination of 15º, under the water tub, three weir plates form the sediment pool, the screw head is immersed in this pool, the screw is driven by electric motor through reducer rotating continuously, the fresh water is feeding from porous plate at bottom of sediment pool, this machine have three functions of washing, dewatering, classifying.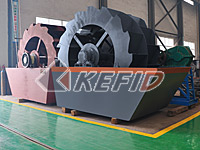 Wheel Sand washing machine
produced by Kefid (including natural sand) is a bucket-washing equipment, which is able to wash and separate powder soil in sand and stones. It has a innovative seal structure, reliable transmission device, which is able to guarantee effect of cleaning and dehydration, and is a high-efficient sand washing equipment which can be used by matching sand making machine.
Optional Equipment: