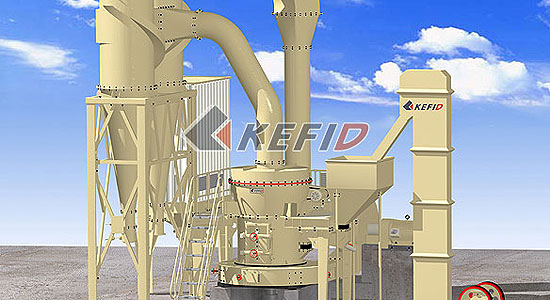 T130X Enhanced Super-fine Grinding Mill
T130X enhanced super-fine grinding mill is a newly designed grinding mill based on the former patent product----TGM super pressure trapezium mill according to market investigation and careful statistics and analysis of use and suggestions from our clients carried out by our experts, which has got unique features by carrying on and improving structures and performance of TGM.
Features of of T130X Enhanced Super-fine Grinding Mill
T130X super-fine grinding mill(Pulverizer Mill ) with innovative design is a new-type grinding machine evolving from the original patented product - TGM Super Pressure Trapezium Mill based on market research, feedbacks and suggestions of customers both at home and abroad. It's optimized on the foundation of TGM Super Pressure Trapezium Mill in function and structure, coming into being its own unique characteristics:

1. Machine body and base are connected flexibly without rigid contact.
2. Machine base is of high intensive, ductile cast iron which is efficient in avoiding crack caused by vibration.
Ductile cast iron has anti-vibration function of cast iron, intensity of cast steel and good performance in impact resistance.
3. Reducer made in China has similar performance as Flender of Germany
Reducers are of high manufacturing technology from professional reducer manufactures, which will contribute a lot to stability of the whole machine.
4. Elastic sleeve pin sets couplings are adopted between machine body and reducer
Comparing with Nylon pin which is easy to break off, elastic sleeve pin sets will increase equipment stability greatly.
5. High-density blads are adopted on classifier.
This structure will be able to enhance powder fineness and productivity. We have found during practice that under same rotating speed, powder fineness can be enhanced by increase density of blades. In another words, while there is no difference in fineness, rotating speed of high-density blades will be lower comparing with those of low-density, which will reduce air resistance and raise productivity.
Impeller wheel has adopted new structure, which will be able to avoide the phenomenon of "powder missing".
6. Frequency conversion control is adopted in the classifier.
Frequency conversion control will cost less engergy comparing with electromagnetic speed control and there will be better control acuracy, better flexibility and higher automation level.
7. Bypass powder collector is adopted
Bypass powder collector has dust isolation room which will force air with more dust down to the whirlwind through bypass and reduce opportunity for dust releasing from air outlet. Comparing with ordinary collector, bypass collector will cause less pressure loss, higher powder collection efficiency, which will be able to collect micro-powder which is impossible for ordinary collectors.
8. Equipments are distributed under same resistance program
This program will be able to enhance powder collection efficiency, reduce internal circulation and increase productivity by avoiding different strength of two powder collectors.
9.Two outlets of powder collector and that of dust collector are distributed within one line
This distribution will contribute a lot to collection of material, labor input saving and easy packings.
10. Set maintenance platform
Setting maintenance plantform will make maintenance of mills more convenient and safer..
Technical Parameter of T130X Enhanced Super-fine Grinding Mill
1. Parameters of machine body
| | | |
| --- | --- | --- |
| Name | Unite | Specifications and technical parameters |
| Quantity of roller | pcs | 4 |
| Diameter of roller×height | mm | Ф410×210 |
| Diameter of grinding ring×height | mm | Ф1300×210 |
| Rotating speed of machine body | Rev/min | 103 |
| Max feeding size | mm | <30 |
| Grain size of powder | mm | 0.074—0.038 |
| Production capacity | t/h | 4-13 |
| Total weight of machine body | t | 18 |
2. System power
Name

Item
Unite

Specifications, technical data

Main motor
Model
Y280S-4
Power
Kw
75
Rotational speed
Rev/min
1480
Motor of classifier
Model
Y160L-4
Power
Kw
15
Rotational speed
Rev/min
1460(frequency control)
Motor of elevator
Model
Y100L2-4
Power
Rev/min
3
Rotational speed
Rev/min
1430
Motor of draught fan
Model
Y280M-4
Power
Kw
90
Rotational speed
Rev/min
1480
Motor of jaw crusher
Jaw crusher model
PE 250×400
Motor model
Y180L-6
Motor power
Kw
15
Motor rotational speed
Rev/min
970
Vibration feeder
Model
GZ3F
power
W
200
Note: Any change of T130X Enhanced Super-fine Grinding Mill technical data shall not be advised additionally.
Get Price or Support of T130X Enhanced Super-fine Grinding Mill
Optional Equipment: