Merry Christmas & Happy New Year to everyone! Welcome to Kefid Machinery!
Another brilliant and happy Christmas and new year is coming, in this holiday season, allow all of us, from KEFID MACHINERY, to congratulate you on the arrival of Christmas and new year, to extend to you all our best wishes for your perfect health and lasting prosperity.

Kefid machinery has very good sales score this year, so congratulation to every staff and hope we can have a wonderful year again in 2013. We will respect every customer of Kefid and treat them just like our friend, think what they thinking, try our best to give them a best solution on the crushers and mills, and hope we can get a win-win situation.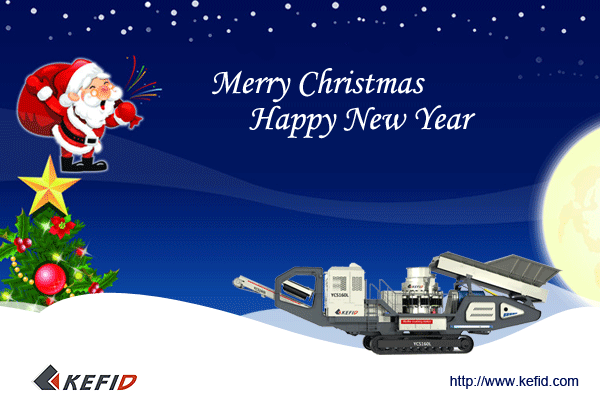 May everything beautiful and best be condensed into these words. We sincerely wish you happiness, cheerfulness and success.

We are very grateful for your support to us,to our products. Thanks to you, KEFID MACHINERY will provide better service to you in the future!

In order to grand celebrate the establishment of Kefid for 20 years and Christmas & Happy New Year; we specially launch these activities from Nov.13th to Dec 30th.

We warmly welcome your visit. So, what are you waiting for? Just take action!

The moment when you are stepping into our Chinese land, we just prepare a free trip for you. We will bear your air ticket expenses and offer you delicious food and comfortable accommodation during your stay in Zhengzhou. What's more, we will give you a wonderful culture trip, you have the chance to visit Shaolin Temple, Longmen Grottoes, and enjoy our beautiful national flower-peony. More discounts will be given to our old customers.
What we will pay for you?
1. We will bear your air ticket expenses in China.
2. We will bear your food and accommodation in China.
3. one-day tour of Shaolin Temple to enjoy the Kongfu Show.
4. More discounts for old customers.
5. More surprise is waiting for you in Kefid.

Contact us now for the details! http://www.kefidguangzhou.com/free-tour/ or Email: kefidworld@gmail.com
Hot Products: