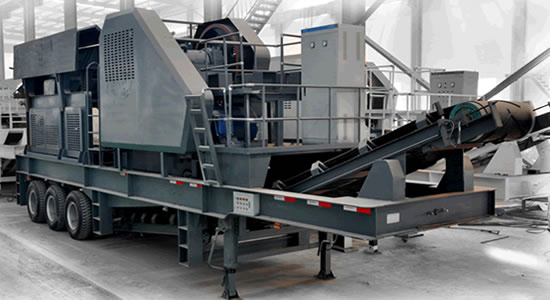 Wheel-mounted Mobile Crusher
Wheel-mounted Mobile Crusher
This series of mobile crushing plant incorporates all the equipments together on one truck, which has high chassis, narrower body compared with other trucks, this ensure the crushing plant be easily transported on highways and moved to crushing sites, so it is able to achieve on-site crushing without material transporting from one place to another place. In addition, the lengthened plant is able to transport the final products to the motor-lorry directly. it can start to work soon even in the bumpy ground without reinstallation, so it saves more time and money than fixed crushing plant which needs to install individual equipment one by one.
Type of production
Features of Wheel-mounted Mobile Crusher
Flexibility:
This range of mobile crushing and screening plant is convenient to run on both common road and bumpy road, and much time for station is saved.
It is in favor for stationing at designated zone in working site, simplifying the steel frame structure in crushing, and curtailing base construction.
Saving- Material Cost:
It can be drived to working site without transportation and it can process material to desired size directly. Each stage crushing station is an independent working unit, and can finish its assigned works well.
Efficiency:
With excellent quality and high crushing ratio, the mobile crusher meets clients coarse, medium and fine crushing and screening requirement. Combined machine unit has durable strong and high working efficiency.
Application of Wheel-mounted Mobile Crusher
Series of mobile crushing plant we have is:
1. Primary crushing plant: vibrating feeder and jaw crusher
This crushing plant is used to crush large materials. Its capacity and feeder size depends on size of jaw crusher installed. Size range of finished product is 0-120mm.
2. Complete set of mobile crushing plant: vibrating feeder, jaw crusher, cone crusher and vibrating screen
This design is suitable to crush materials of high hardness, like granite,balsalt,etc.
This crushing plant has high crushing ratio and fine finished product because cone crusher is used as secondary crusher.
3. Complete set of mobile crushing plant: vibrating feeder, jaw crusher, impact crusher and vibrating screen
Impact crusher used can makes finished product has cubic shap and its low cost can reduce total cost of the crushing plant.
This design is suitable to crush soft materials like limestone.