Mobile Jaw Crusher Plant
M

obile Jaw Crusher Plant is a newly designed rock crushing equipment of our company. It largely expands the coarse crushing area. Its aim of designing concept is eliminating working area and providing with customers high efficiency, low cost operating hardware facilities.It has high on-board chassis, short wheel base and tight turning radius, which is convenient for road transportation, especially for driving to crushing sites that are difficult to access.

Inquire now !
Gallery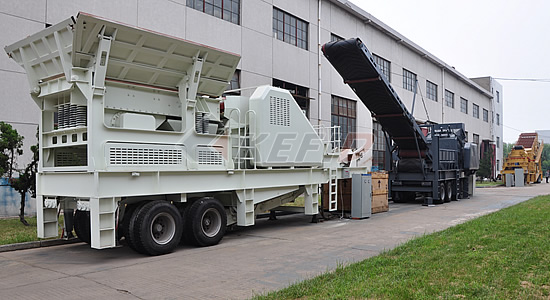 Features of Mobile Jaw Crusher
Flexibility:
Bottom head of the truck-mounted impact Portable crusher mobile crushing station is high. Width of the truck is smaller than the operating semi trailer. The turning radius is small and it is easy for road driving and more convenient for driving in the hash hilly environment. It saves much time from start working.
It is more convenient for the vehicle to enter the exact processing area. It provides for the whole crushing flow with more flexible space and reasonable layout.
Cost reduced:
The Portable crusher station can drive to the selected working site directly and no need transport. Also the lengthened unit can directly send the materials being crushed to the conveyor belt and the transport cost is reduced.
More flexible technical plan can be provided to satisfy customers' various requirements on mobile crushing and mobile screening according to the material type and products request. The working process and transportation of final material will be more effective and cost can be reduced at most.
Immediacy and efficiency:
Integrated truck mounted impact Portable crusher mobile crushing station includes primary crushing station and secondary crushing and sieving station. Each crushing station is separate working unit and can undertake different duties. Belt conveyor takes charge of transporting materials between conveyors, and sends materials to stacking.
Strong adjustability and flexible combination:
Truck mounted mobile crushing station provides to customers with simple, low-cost equipments combination with special characteristic. As to coarse crushing, fine crushing and screening system, the single unit can work separately; also it can be equipped with other unit flexibly to work together. The sideways hopper produces flexible equipments combination for transporting the materials. The diesel motor in the line of integration unit can provide electricity not only to the line itself but also to the equipments combination of the whole system.
Stable performance and easy maintenance:
The truck mounted mobile crushing station equipped with PE series, PF series, HP series,and PV series crushers. It has the features of high efficiency, multifunction,good quality of crushers, reasonable structure, and brilliant crushing capability. It can furthest satisfy the crushing and screening requirement of coarse, medium-coarse, fine materials. It sets good reputation for all the customers.
Technical Parameter of Mobile Jaw Crusher
Model Technical data
YG830E46
YG938E57
YG938E69
YG114E710
YG134E912
Transportation Length (mm) (If there is an diesel generator)
8600
9800
11000
13000
14000
10000
11600
12000
14000
15500
Transportation Width (mm)
2450
2450
2450
2450
3000
Transporation Height (mm)
3800
3500
3600
4500
4800
Maximum Length (mm)
12000
13300
13200
15000
17000
Maximum Width (mm)
2800
2900
2900
2900
3100
Maximum Height (mm)
3800
4100
4600
5800
5800
Weight (T)
26
32
41
55
81
Tire Configuration
Uniaxial
Dualaxial
Triaxial
Triaxial
Quadrqxial
Jaw crusher
PE400×600
PE500×750
PE600×900
PE750×1060
PE900×1200
The maximum Feeding size (mm)
350
425
480
630
750
Discharge opening size(mm)
40-100
50-100
65-160
80-140
95-165
Capacity (T/h)
15-60
50-100
60-130
100-250
160-380
Vibrating Feeder
GZD850×3000
GZD960×3800
GZD960×3800
GZD1100×4200
GZD1300×4900
Belt conveyor
B650×7M
B650×7.5M
B800×8M
B1000×9M
B1200×11M
Note:
1. The above model is elementary Mobile Jaw Crusher Crushing Plant;
2. We can produce the crushing & screening plant according to customers' requirement.